What would the Ultimate Patrol Rifle look like to you?? For starters "an ultimate" can't just be a cute piece with some gaudy "hang-ons". It should be a beauty that starts on the inside. The soul of the weapon… It's a cool that should start on the inside and work it's way out until it just oozes awesome.
Here's what my rendition looks like. Starting with a Noveske Gen2 (OEM non-chainsaw) AR 15 upper and matching AR 15 lower receiver… add a Young Manufacturing Alloy National Match AR bolt carrier group. Make sure you polish the M4 feed ramps. Just because it's a "patrol rifle" doesn't mean everything shouldn't be extra-special. The trigger group is a Wilson Combat 2-stage trigger group with a JPE trigger spring. This makes for a very usable but soft 2-stage trigger.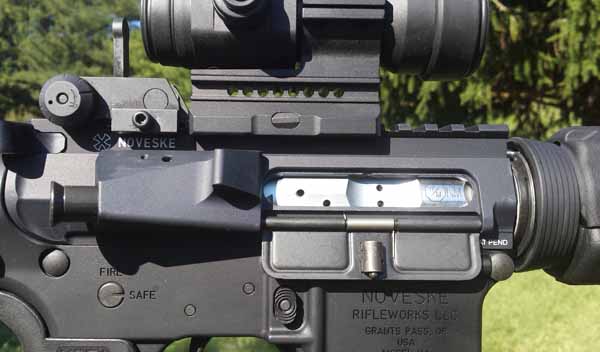 The barrel should also be a "cut above" excellent. This one was a special order Ballistic Advantage barrel (long wait). It is a 16″ stainless steel, heavy government profile, chambered in 5.56 NATO, with 1/8 twist – to effectively stabilize a wider variety of bullet weights (up to 69 gr). It was ordered with a pinned A2 styled front sight. Now see to it this bolt and barrel are "hand lapped" and perfectly head spaced.
All of the furniture is MagPul Moe – I get it…  there are all kinds of "dress-up things" one could do. For me, the MagPul Moe is comfortable, smooth and user friendly. Speaking of comfy – the grip is the Moe "enhanced" version (which means it's soft – like a Hogue). There are also plenty of places to add rails…or not – in which case it's a very clean profile.
Though there is a forward sling mount (and a bayonet lug), there is also a MagPul single point harness attachment in the rear – giving one plenty of harness options.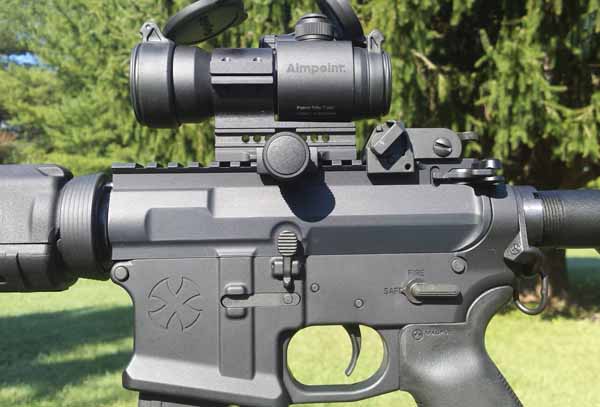 To quickly and accurately get rounds on target this unit is topped off with – most appropriately, an Aim Point PRO (Patrol rifle Optic). It is backed up by a MaTech mil-spec, flip-up rear sight to go with the A2 style front sight. This thing is vicious cool. It can currently be seen at Mid-South Armory in Columbia, TN. (615) 330-0996
Leave a comment and share your thoughts.
Stop in to TheGunShowOnline (forum) and check out the latest Gun News and info – help us build a great online community!!
www.TheGunShowOnline.com – use as your Home Page!!
Quote of the day…
The will to survive is not as important as the will to prevail … the answer to criminal aggression is retaliation. – Jeff Cooper
______________________________________________________________
Parents Talking with Their Kids About Gun Safety
______________________________________________________________
If you found this blog, our website or forum helpful – Tell a friend!! We can't do it without you!! Thanks!!